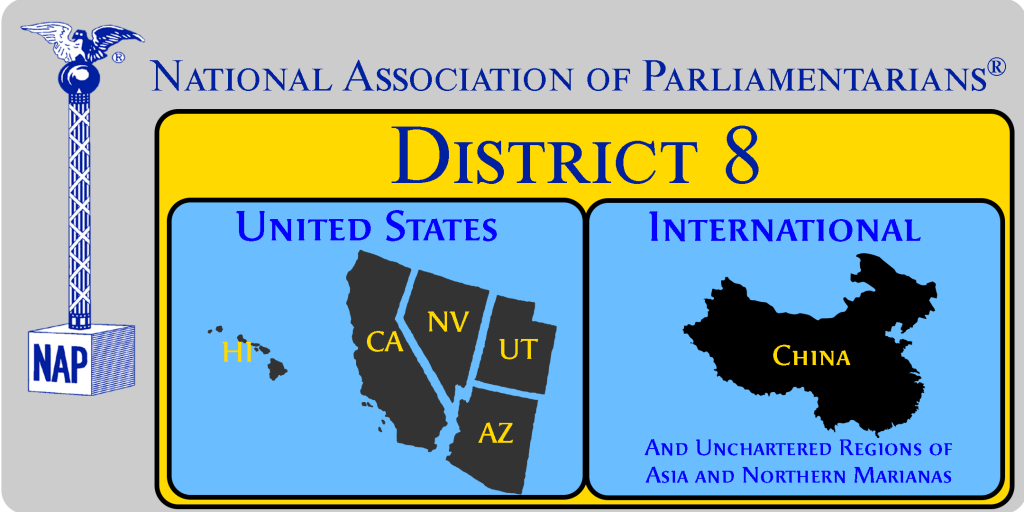 District 8's Upcoming 2021 Conference is July 30-31!
District 8 is in the final planning stages for our District 8 2021 Conference.  This will be a 2-day event via Zoom on Friday and Saturday July 30-31.  Event registration is now open via Eventbrite.
Check out the seven workshops here!
We'll have a business meeting and 2 educational sessions on Friday, and 5 educational sessions on Saturday, with several optional online social opportunities before and after the scheduled sessions. Registration fee of $15 for NAP members and $25 for non-members includes all sessions on both days. Come join us and learn!
District 8 consists of the following chartered associations:
China Association of Parliamentarians
Nevada State Association of Parliamentarians
Utah State Association of Parliamentarians
and the following unchartered regions:
Northern Marianas & parts of Asia
CONTACT NAP
National Association of Parliamentarians
213 South Main Street
Independence, MO 64050
Office: 816-833-3892
Toll Free: 888-627-2929
Email: hq@nap2.org