District 8 Meeting Announcements
An all-member meeting is scheduled for Monday, March 15 via Zoom.  See link information and start times by time zones in the announcement here on the web or here on the archived Mailchimp message.  (Start time is 6:30pm Arizona/MST. Note that most of the US will be on Daylight Saving Time.  I highly recommend you view the time tables on the web or email!)
The District 8 Conference Planning Committee is meeting March 29.  Members and appointees will receive information directly via email.
Preliminary Conference Announcement!
See up-to-date details on the California State Association of Parliamentarians web site here.
District 8 is in the beginning planning stages for our District 8 2021 Conference.  This will be a 2-day event via Zoom, currently scheduled for Friday and Saturday July 30-31.  Check back here for more details as they are made available. Tentatively, event registration will be through Eventbrite… visit the site and click the Remind Me button to be notified when registration begins.
We'll have a business meeting and 2 educational sessions on Friday, and 4 educational sessions on Saturday, with several optional online social opportunities before and after the scheduled sessions. Registration fee of $15 for NAP members and $25 for non-members includes all sessions on both days. Come join us and learn!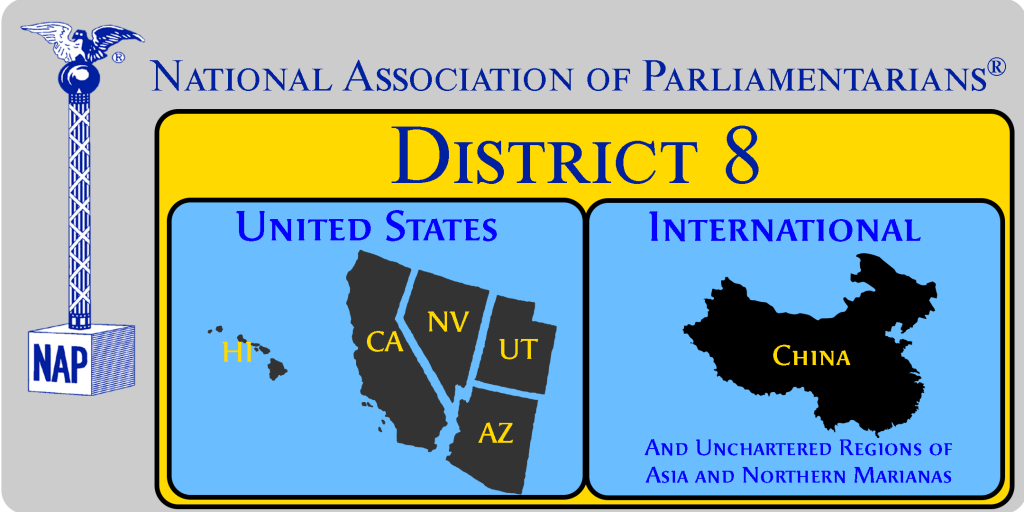 District 8 consists of the following chartered associations:
China Association of Parliamentarians
Nevada State Association of Parliamentarians
Utah State Association of Parliamentarians
and the following unchartered regions:
Northern Marianas & parts of Asia
Michael Peck PRP
District 8 Director
Email: Consulting@MikePeckAZRE.com
Phone: 602-359-8326
CONTACT
National Association of Parliamentarians
213 South Main Street
Independence, MO 64050
Office: 816-833-3892
Toll Free: 888-627-2929
Email: hq@nap2.org