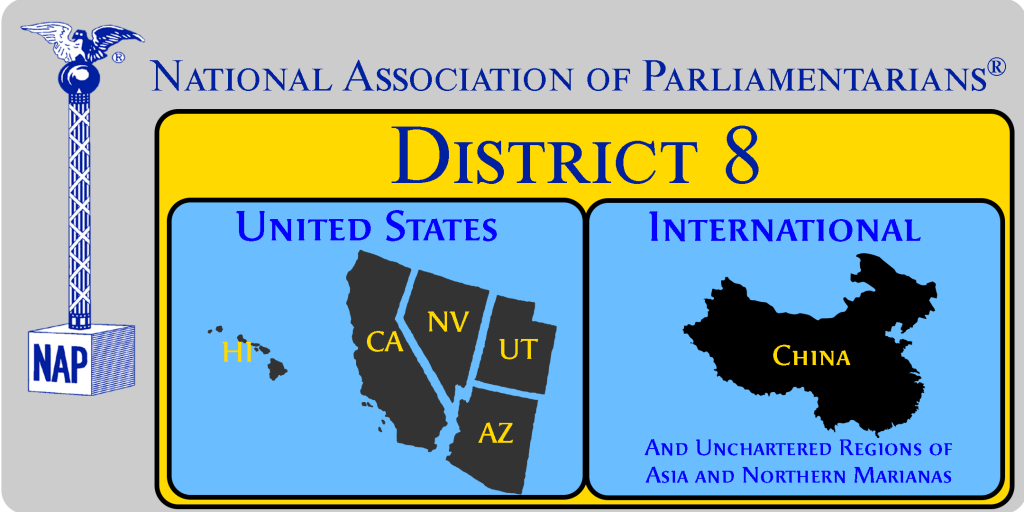 Important News
District 8 Supports NAP Proposed Bylaw Amendment 5!
During the final meeting of the District 8 2021 Conference, District 8 approved a motion supporting Proposed Bylaw Amendment 5 which establishes a 5-year trial of a 50% membership discount for international members — of which there are currently on 29 (July 2021). District 8 has actively worked to establish this discount for several years, and the measure has failed — not, in our opinion, on the lack of the initiative's merits.
See this page for more details on our support of the amendment.
---
District 8's 2021 Conference Ran July 30-31
Click this link for conference information and follow-up material!
---
District 8 consists of the following chartered associations:
China Association of Parliamentarians
Nevada State Association of Parliamentarians
Utah State Association of Parliamentarians
and the following unchartered regions:
Northern Marianas & parts of Asia
CONTACT NAP
National Association of Parliamentarians
213 South Main Street
Independence, MO 64050
Office: 816-833-3892
Toll Free: 888-627-2929
Email: hq@nap2.org