Amendment 5: International Member Dues Reduction
At the final meeting of the District 8 2021 Conference on the afternoon of July 31, 2021, the district membership approved a motion in support of adopting Amendment 5 of the NAP Proposed Bylaws Amendments for the 43rd Biennial Convention to be held September 8-11, 2021.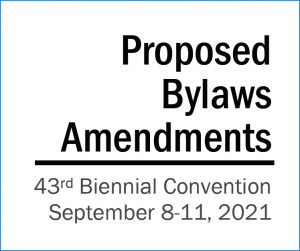 What is the goal of this amendment?
Due to differences in economic situations in many countries outside of North America, active membership with NAP by persons in other countries is often prohibitively costly. In addition, the cost of materials ordered through the NAP store, combined with high shipping costs and long delays, significantly impacts a foreign member's ability to enjoy the same level of service experienced by most North American members.
Who Is Supporting This Amendment?
Wanchun Sun, President of the China Association of Parliamentarians
In China, with the rapid development of economy in recent decades, poverty is no longer a universal phenomenon. After solving basic survival questions, enterprises, schools, families, communities, societies and many government departments have begun to have the strong interest in rules of order, more and more people also have the will to study and apply the rules of order. However, for most people with ordinary income, the membership fee of NAP is not a small expenditure, at the same time, due to language barriers and geographical distance, most of the communicative and educational activities provided by NAP can't be attended, the learning materials provided by NAP are not convenient to read, and most of the members in China can't receive the publications sent by NAP.
Therefore, we hope that NAP will be able to lower the fees for its members from low income, non-native English speaking countries and regions, in order to promote more people to have a deeper study of the rules of order through NAP to speed up the promotion of the rules of order in more countries and regions.
Carl Nohr, Chair of NAP's International Services Committee
The International Services Committee invites your support for this amendment to see whether a reduced membership fee would encourage more international membership, thus moving forward the vision of NAP: "Educating the world on Parliamentary Procedure".
District 8, Represented by the Amendment 5 Support Committee
At the closing business session at our recent conference and educational event held July 30-31, there was unanimous consent for support of the amendment, followed by unanimous consent to show our support by creating a full page ad in NAP's 43rd Biennial Convention guide. Many members of District 8 have worked to bring this to fruition over the years, but in many ways we feel the proposal was previously misunderstood by many NAP members. it is our hope that this ad and web page will simply illustrate how this amendment supports the NAP's mission with minimal potential negative impact, and great potential positive impact.
Please join District 8 in supporting Amendment 5!
Ray Harwood, President of Arizona Agua Fria Unit, Amendment 5 Support Committee Chair, and members:
District 8 Director Mike Peck
Arizona Association President Marilyn Newman
NAP Commission on Credentialing Vice Chair Gail Knapp
California Association Treasurer Maria Trujillo-Tough
---
What is the impact to NAP?
International membership in NAP has been declining in recent years. For the 2021 membership year data for 2021, there are only 29 international members. If the reduction in fees allows these members to continue, without an increase in international membership, the financial impact would be less than $1,500. Our hope is that the reduction will increase international participation, allowing NAPs reach worldwide to grow and foster additional members in active countries, and encourage members from more countries.